The disruption to all of our lives caused by the COVID-19 health crisis has been profound, and we know this has been a year of uncertainty for our staff, parents, students, and our community. We want to thank parents for their patience as we've work toward clarifying our tentative plan for teaching and learning in the 2020-2021 school year. First and most importantly: the health and safety of the Savanna School District students, staff, and community is a top priority.
With the COVID-19 positivity rates stabilizing in Anaheim, we have an obligation to our community, to our parents, and most importantly, to our students, to begin to transition to in-class learning while keeping student and staff safety at the forefront of all we do.

We are tentatively planning to return to an in-person hybrid model on Monday, November 9 or as COVID-19 case rates allow. If we need to transition at a later time, we will keep parents informed. Parents will have the opportunity to select from two options for their children for the remainder of the 2020-21 school year. Parents may choose to have their child remain in a 100% Virtual Learning Program or return to school in an In-Person Hybrid Program. While Principals work to balance class assignments with parent interest in each of these programs, classroom teacher assignments may change. Students will be expected to attend daily to take full advantage of either the In-class Hybrid Learning Program or daily live standards-based lessons, rigorous and engaging pre-recorded lessons, small group instruction, and grade-appropriate assignments through the Virtual Online Program. Students will be graded on the assignments they submit; report cards with marks reflecting progress toward their grade level standards will be issued.
As we reopen to in-person learning, classroom environments will look vastly different than previous years due new health and safety measures as a result of the COVID-19 pandemic. This plan to outline a transition process to shift to on-campus instruction is based on current guidance from public health officials and state agencies and will likely be updated as the situation evolves. It's important to note that the District has an obligation to focus this plan on academic instruction to enhance student performance and address learning loss while maintaining the physical, mental, and social well-being of our students.
Below are Sample Learning Models for the In-Class Hybrid Learning Program as well as the Virtual Online Learning Program. Please keep in mind that teachers will provide specific daily/weekly schedules customized to their grade level and specific curricular expectations. This is provided for information purposes only.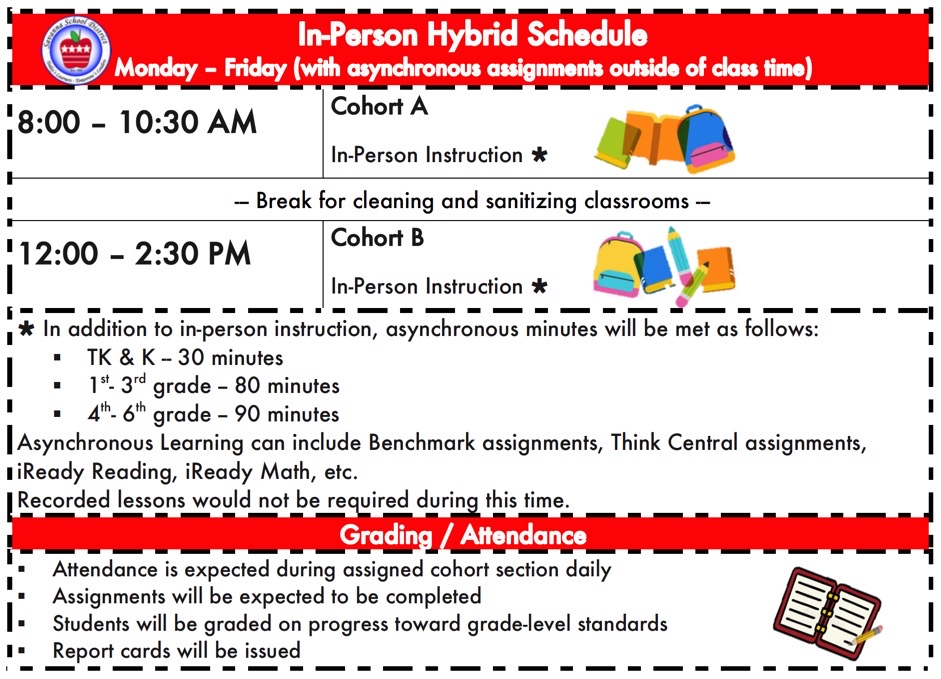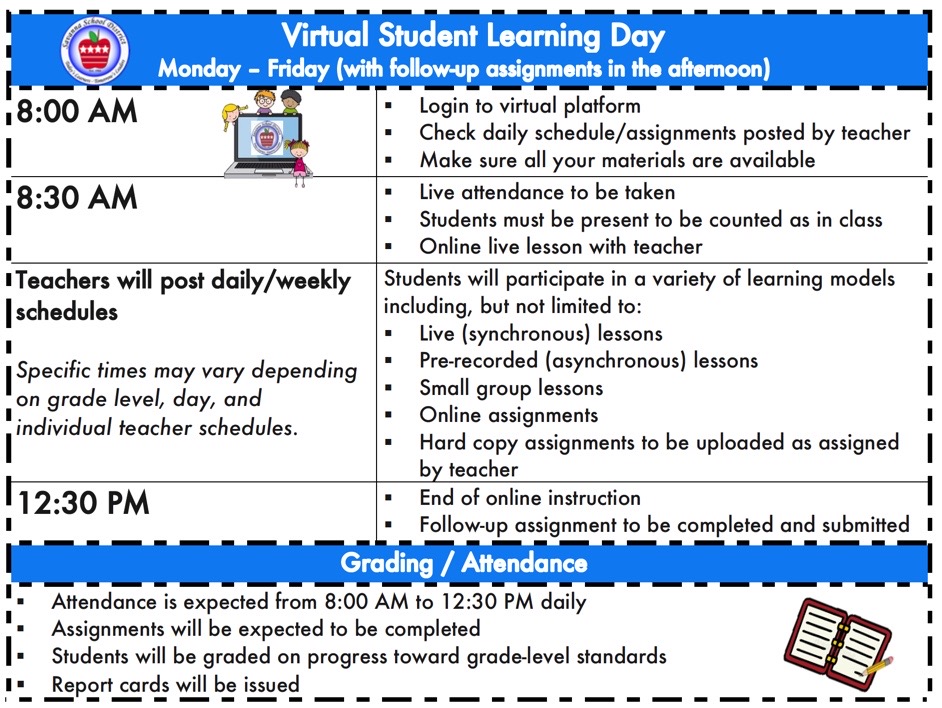 While we can't wait to have our students back on campus, please know that the safety of students and staff is one of our highest priorities. We will continue to monitor the COVID-19 case rates as we plan for our November 9, 2020 reopening.