Board of Trustees Meeting Agendas
The Savanna School District Board of Trustees usually meets on the second Tuesday of each month with the Open Session beginning at 4:30 p.m. in the District Office Multi-Use Room located at the 1330 S. Knott Ave, Anaheim.
Click on any of the links below to read or download Agendas from upcoming or prior meetings. Agendas will be posted on this site 72 hours in advance of each regularly scheduled meeting.
NOTICE IS HEREBY GIVEN THAT a vacancy occurred on the Board of Trustees of the Savanna School District, effective May 27, 2022, as a result of the resignation of Trustee Linda Weinstock. On May 13, 2022, the Board of Trustees appointed Dr. Gay Zambrano to fill this vacancy.
This appointee shall hold office until the next General Election in November, 2022, unless a petition calling for a special election pursuant to Education Code 5091 and containing a sufficient number of signatures is filed in the office of the Orange County Superintendent of Schools, 200 Kalmus Drive, Costa Mesa, California, not later than June 12, 2022.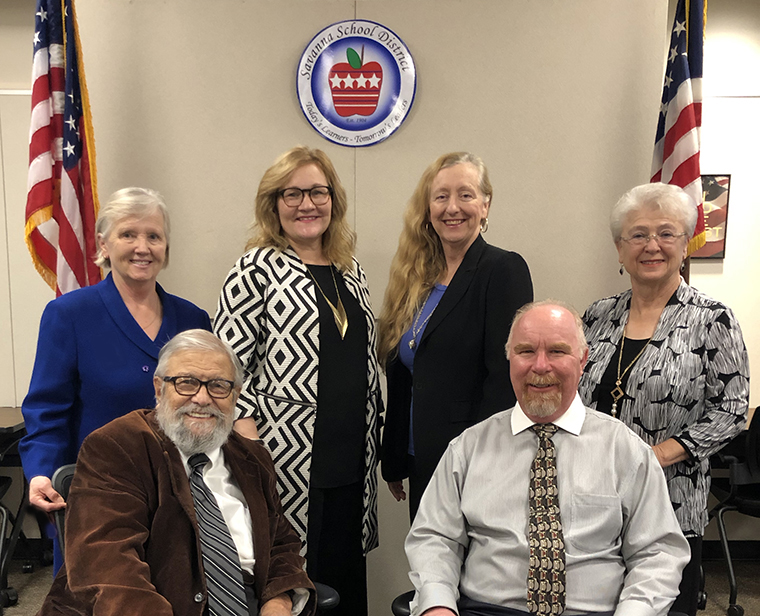 Pictured clockwise from top left are: Savanna School District Superintendent Dr. Sue Johnson, Board President Mrs. Tina Karanick, Board Clerk Mrs. Linda Weinstock, Board Vice President Mrs. Chris Brown, Board Member Mr. John Shook and Board Member Mr. Edward Erdtsieck.
Click here to send an email to the Board President
2022 Meeting Agendas
January 11, 2022 Regular Meeting Agenda
January 13, 2022 Special Meeting Agenda
February 8, 2022 Regular Meeting Agenda
March 1, 2022 Regular Meeting Agenda
March 3, 2022 Special Meeting Agenda
April 12, 2022 Regular Meeting Agenda
April 20, 2022 Special Meeting Agenda
May 10, 2022 Regular Meeting Agenda
May 13, 2022 Special Meeting Agenda
May 26, 2022 Special Meeting Agenda
School Site Visits
Agendas are posted in the event three or more Board Members attend the site visit. In the event fewer than three Board Members are present, the meeting will be adjourned for lack of a quorum.
March 10, 2022 Reid School Site Visit
March 14, 2022 Hansen School Site Visit
March 15, 2022 Holder School Site Visit
March 17, 2022 Cerritos School Site Visit
Transition to Trustee Areas for the November 2022 General Election
Savanna School District is transitioning from at-large elections to by-trustee area elections. Residents will be able to vote for a single Board of Trustee candidate residing in their newly drawn trustee area. Under the "at-large" system utilized in elections prior to 2022, all registered voters within the District's boundaries could vote for any candidate for all Board member seats. Beginning with the November 2022 election, candidates will be elected by "trustee areas." This means only voters within a given trustee area can vote for candidates who reside within that same area. The intent of this proposed system is to offer greater opportunities for Board representation by candidates who might not otherwise be elected under an at-large system. The map below demonstrates the "trustee areas" for the Savanna School District.
Trustee Areas 1, 2, and 3 to be on November 2022 Ballot
Trustee Areas 4 and 5 to be on November 2024 Ballot